Cultural & Environmental Immersion (ACE Leadership Program)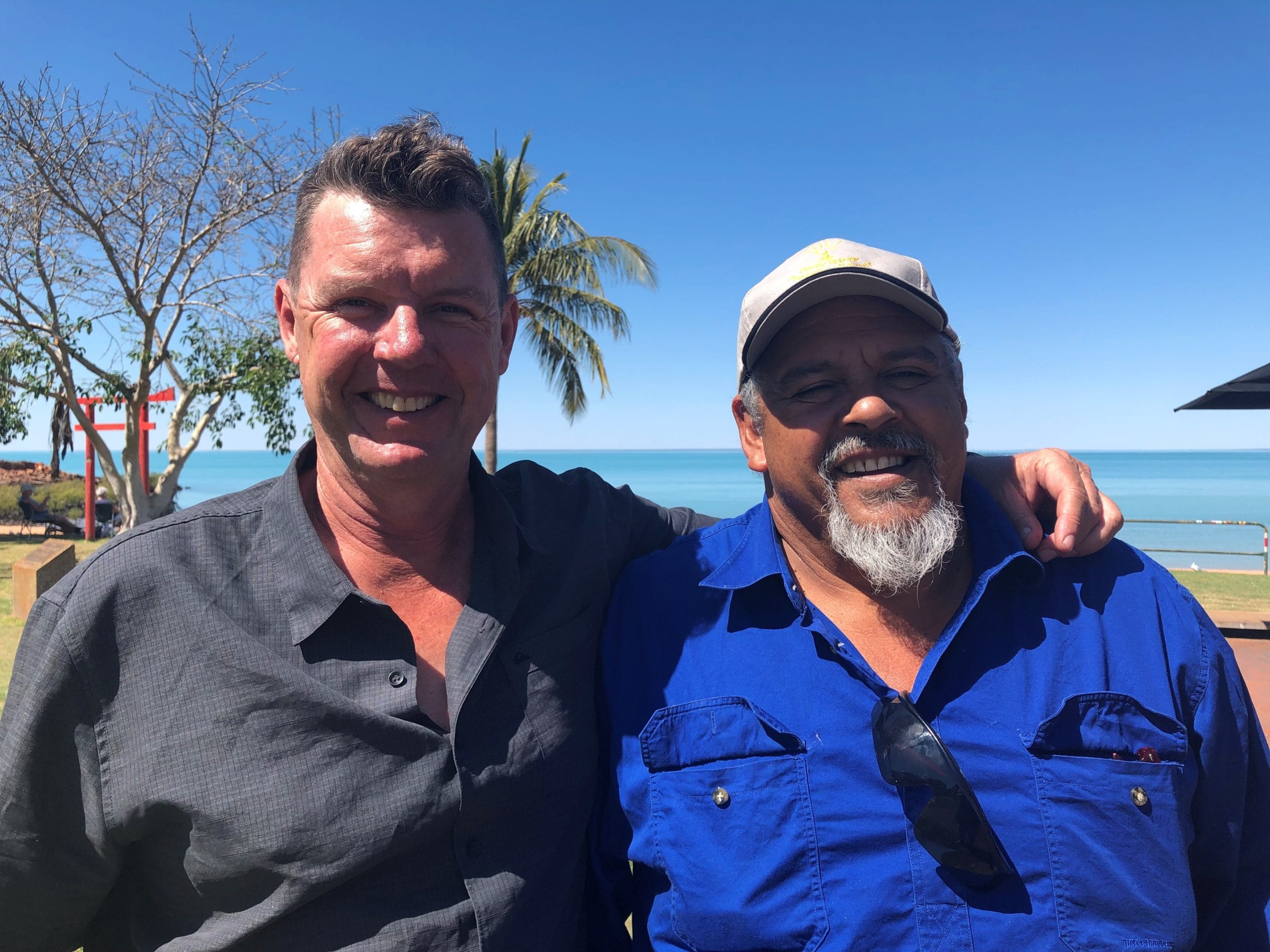 Scottie Wood from Adventure Works and Robbie Watson, a senior Nykina man, making a difference with the Gulbujargu "My River" cultural healing program.
We have experienced for many years the value of travel experiences.  How this life-changing opportunity can enhance maturity, confidence, and independence in young people.
Over the years we have seen the increase of overseas travel in high schools.  For a range of academic, cultural and development purposes. Learn more about our programs Here.
Rite of Passage
My own coming of age definitely began when I set off from London with a backpack, a Lonely Planet, some lira, pesos, drachma, francs, and travellers  cheques in a money belt with only a vague itinerary and time frame.
In the short term, we know that overseas travel is reduced and changing.  We will all struggle to maintain the level at which we explore other countries and seek new cultural experiences.
This is our time to commit to grow understanding and connection to Aboriginal Australians
The AdventureWorks Kimberley programs can provide an amazing opportunity for our young people to transition to adults through the experience of travel, challenge, and adventure.
We also now have open to us, many ways to build understanding and connection to Aboriginal Australians and support the families, businesses, and economies of our remote and regional communities.
Aboriginal Culture
A travel experience with AdventureWorks provides young people the time and space to spend time with Aboriginal people on their land and in their communities.
This gives the experience the richness of culture, share stories and language.  We have the time to understand our differences and make new friends as we walk side by side on country to build a stronger and more connected Australia.
We would love to share our favourite Ted Talk with Tui Raven, where she shares what it is like to be an Aboriginal woman Here.
Community
Live, work and explore with local communities to build a personal experience of the richness and struggles of Aboriginal culture and people.
Students take part in a hands-on community project that contributes meaningfully whilst building long term sustainable relationships between individuals', communities, and schools.
Environment.
We spend time in awe-inspiring environments of natural and raw beauty that are nowhere else on earth.  Experience some of the remotest locations on earth under vast skies of a million stars.
Understand the richness of this National Biodiversity Hotspot with the abundance of its plant and animal species.
Connect with places of significance and contribute to environmental management and developmental projects.
AdventureWorks' commitment to our environment, fosters a sense of responsibility to our world to leave it a better place than we found it.
 Leadership.
Our programs are designed as student led experiences.  They are handed the reigns to plan, coordinate, make decisions and share the leadership of all aspects of the program.
We love to witness the growth and development through responsibility and the learnings that come from real life experiences of success and failure, in a supported environment.
Adventure.
You do not experience the normal tourist trail with AdventureWorks.
We draw on our experience of travelling and working in this part of the world for over 20 years.
Our local partners support the logistics and back up with their local knowledge.  This helps us push to go where no grey nomad has been before.
Expedition.
 Our expedition phase will take the students to the next level of challenge as they dig deep to find how strong and resilient, they are. Great stuff happens in hard places and this is where they experience the magic of who they truly are.
Our pledge to Aboriginal Australians.
 For 25 years AdventureWorks has been committed to the growth of our young people.
We now pledge our commitment with open hearts and minds, to use our programs for greater connection.  Also a wider understanding of Aboriginal people and their culture for a stronger Australia together.
Join Us.
Mary Wood – Director.
AdventureWorks WA
Christmas can be a uniquely challenging time of year for parents and teens. It only comes around once, so the occasion is loaded with cultural meaning, heightened expectations and emotional turbulence. The good news is that with a little forethought and planning, you can include your teens in the process of reshaping the significance of Christmas, avoid potential conflict, and strengthen your relationship.
AdventureWorks WA
Young people from all over the world participate in rite of passage journeys to mark their transition into adulthood. Learn more about how rite of passage journeys are celebrated in different cultures, and what a rite of passage journey looks like.
AdventureWorks WA
Social and emotional learning is an important part of a young person's personal growth and development. Read more about what social and emotional learning looks like and how to teach it.
Please leave your contact information and our team will get back to you within 1 business day!